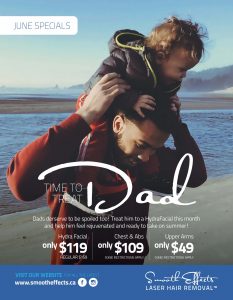 💙 Dad deserves to be spoiled too! 
💙
Treat Dad to a HydraFacial this month for only $119 regular $159. The HydraFacial is a 4-step cleansing and hydration facial. Great for all skin types with no down-time.
1️⃣ cleanses & exfoliates – dead skin cells are removed to reveal healthy, new skin
2️⃣ gentle peel – helps to loosen dirt and debris from pores without irritation
3️⃣ extractions – painless, automated extractions use vacuum suction to remove impurities
4️⃣ hydration – antioxidants and hyaluronic acid are vortex-infused to nourish and protect the skin
Laser Specials:
Upper arms for only $49
Chest & abs for only $109.
*Some restrictions apply.