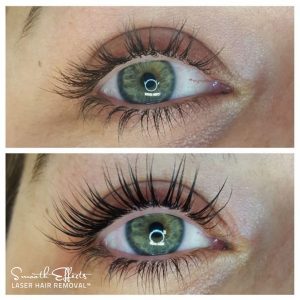 Lash Lift and Tint $79 
Get lashes that WOW with minimal maintenance! You will wake up with beautifully curled and noticeably darker lashes for 6-8 weeks. This service is a great alternative to lash extensions or for clients with make-up sensitivities. Unlike traditional lash curling methods (using a rod to curl the lash) our lash lift bends the lash at the root causing the lashes to appear fuller, thicker and longer.
What is a Lash Lift?
It's a lifting technique designed to give you longer-looking lashes without the need for lash extensions. It will look as if you used a really good lash curler.  To top off the treatment, we apply a black lash tint which really makes your lashes look more prominent. The procedure takes about 45 minutes. It's an easy way to instantly brighten and open up the eye area.
How do I need to prep for the treatment?
Please come in make up free. If you wear contacts, they must be removed for the duration of the treatment.
Is this like lash extensions where they will look dramatically thicker?
Lash extensions and lash lifts are 2 totally different treatments.  We will not be adding additional lashes to your existing lashes.  We will simply be curling your natural lashes. It will make your lashes appear fuller and lifted.
What are the post treatment instructions?
Do not apply an oil based product to the lashes for the first 24 hours.
Is there any maintenance?
None at all! You don't have to do anything special with your lashes in between lifts.
Can I still wear mascara?
Of course! You'll just achieve a more dramatic effect when mascara is applied to your curled lashes.
Will this damage my eyelashes?
No. The lifting solutions are only applied to the new growth area of the lashes, down towards the base and up a bit.
Can I get this treatment if I use a lash growth serum?
Absolutely! Some of the most dramatic results achieved have been from clients using a growth serum (we recommend Eye Envy).
How long does the effect last?
Depending on the length and quality of your natural lashes, the lift lasts between 6 to 8 weeks.
Who is this procedure NOT good for?
Chronic dry eye, conjunctivitis, damaged lashes or lashes with gaps (this treatment may make the gaps more noticeable), active eye infections of any kind, trichotillomania (habitual pulling out of lashes).