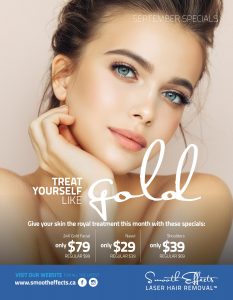 🍂 Celebrate fall with our September specials! 
🍂
Kids are back to school and it's time to treat yourself like gold! Give your skin the royal treatment with a one-hour 24K Gold Facial. This facial will leave your skin feeling soft, refreshed and rejuvenated. Only $79 (reg. $99).
Laser Specials:
Navel $29 (reg. $39)
Shoulders $39 (reg. $69)
*Some restrictions apply. See in-store for details.