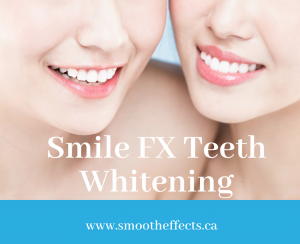 Smile FX Teeth Whitening
The Smile FX Breakthrough – Smile FX is a 3 x 15 minute cosmetic teeth whitening system that has a patented blue and red LED light technology. The light technology activates the Smile FX gel, which results in whitening teeth faster, deeper and longer. This has revolutionized cosmetic tooth whitening in a manner that is safe, effective and pain free. This treatment is safe on crowns, caps and vaneers. Stains will be removed during whitening, returning to their original colour.
Tooth Sensitivity? No problem! Smile FX is the #1 choice for anyone with any degree of tooth sensitivity.
Who is Eligible for Teeth Whitening?  Anyone over the age of 12 can whiten their teeth. Parental consent is required for persons under the age of 18. Individuals with gum disease or other oral problems should contact their Dentist or Doctor prior to whitening. The use of some antibiotics and other drugs can cause tetracycline stains that may not be removed.
$99