VISIA Complexion Analysis $49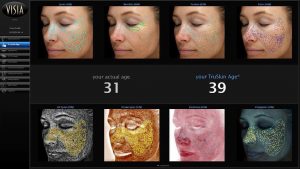 At Smooth Effects, we provide our clients will an in depth imaging system called the VISIA. Knowing your unique skin profile is the first step towards complexion health and vitality. The VISIA can determine the state of your skin, both on the surface and underneath it. This amazing imaging system gives a clear, multidimensional insight into the individual aspects of your complexion which affects your overall look.
Among many variables which contribute to the overall state of your complexion, six are crucial for selection of optimal treatment and skincare regiment. Those variables are: location and depth of wrinkles, pigment changes, vascular changes (redness), width and condition of pores, effects of UV damage and presence of porphyrin bacteria.
How does it work?
The VISIA system uses multispectral imaging and analysis to capture the crucial visual information with respect to six areas that affect the health and look of your complexion: wrinkles, spots, pores, complexion evenness (variations of the complexion colour), porphyrins (presence of bacteria in pores) and UV spots (photo damage characteristics and typical for excess exposure to sun).
At your first appointment you will get an extensive and detailed report on your skin, together with photographs and recommendations for products and treatments. The computer will store your details so that after a series of treatments you will be able to see the improvements on your skin. This incredible innovation allows every client to monitor their progress from treatment to treatment, as well as the results after the application of recommended skin care.
What to expect?
The VISIA gives the most comprehensive analysis for identification of all aspects of your skin's health, from complexion evenness and wrinkles to sun damage. With the VISIA imaging system, our skin experts can suggest optimal treatments and skin care for your unique complexion. This way you will be able to monitor the results from treatment to treatment, as well as track the progress made throughout the years.